Superfast IT continues to grow steadily, so we're always looking for great people to join our team. If you're good with both technology and people, and you'd like to join a company where you can grow and realise your potential, then Superfast IT could be the place for you.
Good pay and job security
James Cash founded our company in 2002, and we've gone from strength-to-strength, growing each year, even through the recession. We've never been forced to lay off staff, and our firm financial foundation means our credit rating is excellent, at 96 out of 100.
Our team is crucial to our success, so skill and hard work do not go unrewarded, and it is our policy to pay above the industry average.
Challenging work and opportunities for career development
The work we do is challenging. Designing, deploying, managing, securing, and supporting IT infrastructures across numerous sites for different companies with different requirements, some of them operating around the clock, is complex, demanding, and certainly not for the faint-hearted.
You'll be involved in the complete end-to-end IT solution and receive the kind of technical exposure you could only dream of if you work in a large company or an internal IT department.
We offer opportunities for training and development, both through external providers and internally-run training days. And with the company's continued growth, there is potential for you to advance.
Great working environment and a real team spirit
Our office is in Stourbridge, away from the city centre, so our team don't usually have the hassle of battling rush-hour traffic before and after work, and there's free parking onsite and nearby. The office is light, comfortable, and spacious.
The team at Superfast are a friendly bunch, always ready to lend a hand and support one another. We get together for social events throughout the year, as well as participating in the occasional challenge to raise money for charity.
Fridays bring a more casual end to the week when we have a dress-down day and order in lunch.
Private healthcare
All of our team benefit from private medical insurance to cover acute medical conditions, as well as a health cash plan which includes regular, everyday treatments such as visits to the dentist or optician, and treatments such as physiotherapy or counselling.
Mental health and wellbeing
We take mental health and wellbeing seriously and are continuously developing initiatives to foster a working environment that is open, supportive and conscientious. That is why we have team members trained in workplace mental health - they have an open-door policy to encourage anyone struggling to speak up and get the support they need. It could be as simple as grabbing a coffee or using our private healthcare plan to get access to professional help.
We have also introduced Welbot, a workplace app that has been specifically designed to look after your personal health and wellbeing in the workplace. Team members are actively encouraged to make the most out of the app, taking part in:
Physical and mental wellbeing exercises

Mood reporting

Nutrition and hydration reminders

Screen break prompts

Real-time insights and statistics
Case study: Adam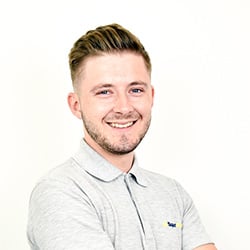 "I joined Superfast seven years ago. I started as an apprentice with little-to-no knowledge of IT, but I was keen to learn. The company put me through a Level 3 Apprenticeship which involved off-site courses as well as on-the-job learning.
After I finished the Level 3 course, I was given the opportunity to progress to Level 4, which I grabbed with both hands. I've risen through the ranks to become the Service Manager, managing a team of engineers to provide the best possible service to our clients. It makes me feel proud when I think how far I've come and I'm looking forward to many more years at Superfast."
Who Are We Looking For?
We're looking for customer-focused, team players, who are well organised, pay attention to detail, and have a love of learning. You must be both good with technology and people. If this sounds like you, we'd love to hear from you. Get in touch, today.