Bromsgrove IT support.
Your friendly IT company and managed IT service provider in Bromsgrove.
Fast. Reliable. Proactive.
See what it's like working with us. Book a free consultation.
Book your free consultation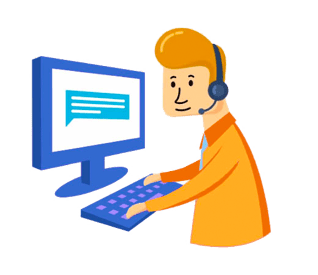 Your virtual IT department
Serving small businesses based in Bromsgrove, Wyre Forest and the surrounding area.
IT support services Bromsgrove.
Having technology that is fast and reliable is important in today's digital era. For close to 20 years, Superfast IT has offered small business IT support in Bromsgrove, Wyre Forest and the surrounding areas. We work with over 70 small and medium sized businesses in Bromsgrove. Around 1,500 people trust us with their IT each day.
As an SME, we understand what is important to small and medium business leaders:
Operations that run smoothly with minimal downtime

Fast IT resolves and proactive technology management

Secure IT and IOT devices

Access to professional, friendly and expert outsourced IT to keep you a-breadth of IT advancements
Partnering with ambitious Bromsgrove SMEs
North Worcestershire is part of a thriving, entrepreneurial and ambitious commercial community. Locally known as the 'natural environment for business', Bromsgrove and Wyre Forest top the national league to new businesses surviving their first year1.
Whether you are an ambitious entrepreneur or established small or medium sized company, we enjoy partnering with the area's excellent start-up and SME community, to provide IT support, tools and technical knowledge to keep teams productive, data safe and limit downtime.
Bromsgrove, Wyre Forest are great places to do business and we relish the opportunity to work with ambitious SMEs based in the local area.
Get in touch.
IT services in Bromsgrove
Quick response to your daily IT challenges with remote IT support. Proactive to monitor IT systems and prevent issues. Proactive cybersecurity cover to ensure that your data is secure and retrievable in the worst case scenario. Don't get left behind - understand how technology will help you conquer your business goals.

Fast response
& proactive
Speak to support call centre in minutes.
Most IT challenges solved within 10 minutes
IT kept simple
No more headaches. Focus on more important tasks while we handle your IT.


What's included in IT support?
Managed IT support for Bromsgrove
Unlimited expert advice
IT management and admin
Remote and on-site support
Backup and disaster recovery for server and Microsoft 365 data
Free website hosting
Who we work with
We are proud to work with Bromsgrove based businesses.
We support small and medium sized companies in Bromsgrove, Wyre Forest and the surrounding areas
We also cover Aston Fields Trading Esate, Saxon Business Park, Enfield Industrial Estate, The Trafford Park Industrial Estate, Royal Enfield Business Park, Park Farm Industrial Estate, Washford Industrial Estate, Hunt End Industrial Estate, Moons Moat North Industrial Estate, Silver Birches business park, The Barns Rural Business Park, Topaz Business Park, Buntsford Gate Business Park, Bromsgrove Enterprise Park, Astwood Business Park, Faraday Business Centre, Kingfisher Business Park, Ravens Bank Industrial Estate, Longbridge Technology Park and Portway Trading Estate.
Visit our Birmingham, Stourbridge, Halesowen, Worcester, Wolverhampton and Dudley pages for more client examples.
Visit our case studies for BCRS, Edward's Trust and Co-ordsport to see what our clients think about us.

Islabikes
Niche Bike manufacturer
An unrivalled bike designer manufacturer for balance, starter, multi-purpose, road and mountain bikes for children of all ages and a specialist range for adults. UK based, with HQ in Ludlow, the specialist niche consumer brand were first to design handlebars, brakes, pedals and gear levers sized to fit the age of the cyclist. The bikes are lightweight, can be picked up easily and are very manoeuvrable.
Learning Centre
Find out more about us, as well as useful tip and hints for IT, digital & cybersecurity
Bromsgrove IT services
We offer many IT services in Bromsgrove and Redditch, these include cybersecurity, cloud computing and migrations, data back-up and disaster recovery, Microsoft 365, telephone (ViOP), IT consultancy and connectivity - internet, WiFi and 5G.