Securing your business
Evolving cyber threats = Evolving service
We have simplified the way we keep your business safe. As cyber threats continually evolve, it is our responsibility to adapt our service to prevent against cyber attacks and threats.
After analysing the threat environment, we have carefully crafted two distinct packages; Core and Enhanced. The two packages ensure you can choose the right level of security for your business.
There is also the option to work towards Cyber Essentials and Cyber Essentials Plus accreditation. This is awarded by IASME and demonstrates cybersecurity commitment to your clients and customers.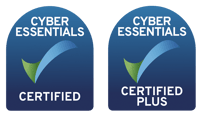 Cyber Essentials Accreditation
Essential security controls for every business. This is the minimal protection we recommend for all businesses. This package is automatically implemented to all Superfast IT customers.
Choose to add further protection and peace of mind with the Enhanced Security Package. Recommended for businesses working in high risk industries experiencing frequent cyber attacks, as well as businesses that hold sensitive or personal data or are in the supply chain to OEMs/defence and public sector.
Separate to the packages, you can choose to certify your business against the Cyber Essentials framework. Find out more about Cyber Essentials.
Core Security Package

Essential cybersecurity controls, recommended to all business and automatically included as part of our managed IT agreement.
✓ Security updates
✓ Anti-virus
✓ Secure web browsing
✓ Email security
✓ Network security
✓ Secure remote access
✓ Security policies
✓ Two-factor authentication for Office 365
✓ Server backups with offsite replication
✓ Microsoft 365 backup
Core Security Package
Enhanced Security Package

Advanced security controls to simulate threats, test your defences and detect if your data is available on the black market, thus increasing the likelihood of being targeted.
✓

Everything included in the Core Package
✓

Employee security awareness training

❔
✓

Phishing simulations
✓

Dark web monitoring
✓

Endpoint detection and response
✓

Disaster recovery testing

Enhanced Security Package
When would you recommend the Enhanced Security Package?
---
We recommend the Enhanced Security Package to all business that have the budget. We would highly recommend the Enhanced Security Package if you are at a higher risk of an attack.
You are higher risk if you:
Handle large amounts of personal data, e.g. recruitment businesses and B2C
Handle sensitive data, e.g. solicitors, accountants and finance
Supply to the public sector, an OEM or the defence sector and need to adhere to supply chain security requirments
Have IP (Intellectual Property)
You are implementing digitalisation with an increased number of devices, therefore increased number

entry points to IT systems and data

Work within a targeted industry e.g. attacks in health, utilities, sports and education are cyber attack trends in 2021
You have a well known brand
Your employees have had no previous cyber training. Human error is the main entry point for cyber attacks. Cybersecurity works best when it is a part of your business culture, with awareness of ongoing threats
Whats the difference between the Core and Enhanced package?
---
James explains the difference between the Core and Enhanced packages
The Core Security pack includes essential cyber security controls to keep your business safe.

We recommend all businesses have Core controls as a minimum, no matter your business size or industry.

The Enhanced Security pack is designed to provide businesses with additional protection and training.

See the list above to see what is and isn't included for each option.
Ultimately it's your choice and depends on your business circumstances. The Core Security Package comes as standard to all our clients.
The Enhanced Security Package is recommended for businesses at higher risk of an attack and for businesses that want complete peace of mind.
If you need help deciding your package, get in touch with us.
The exact price depends on a number of factors including, the number of sites, servers, workstations, and IT users you have.
As an example, a typical company with 20 users would pay around £900 a month for the core service which includes IT support and essential cyber security. The enhanced package would be around £240 extra, and Cyber Essentials certification would be another £100.
Get in touch with our team for a tailored quote based on your unique situation.
All of our clients will automatically have the Core package. If you're interested in the Enhanced Security Pack or Cyber Essentials Certification, get in touch and we will put these in place for you.
The cybersecurity threat landscape is continually changing. We have analysed the threat intelligence and updated our new services to provide protection against the latest threats.

Furthermore, businesses now typically have more data in the cloud, and have people working remotely, so we've updated our packages to provide cover these scenarios.
Cyber insurance will not replace the Enhanced pack, they have different functions.
Cyber Insurance only provides cover if something bad happens.
Someone that goes mountain biking may ake out health insurance to cover the costs if anything goes wrong - similarly to cyber insurance. But this doesn't mean you wouldn't wear a helmet. In cybersecurity, the helmet is cybersecurity security controls.
Also be aware that cyber insurance is unlikely to pay out if you have not got adequate security controls in place (such as included in our Core and Enhanced packs). Check your policy coverage very carefully and understand what measures you need in place, and will need to prove, should the worst case scenario take place.
These packs do not guarantee that you will not suffer a cyber attack. It's about reducing the risk of attack and making sure you can recover from one.
We don't need to carry out an on-site assessment, and we can deploy most of the security controls remotely.
You can upgrade your security with the Enhanced Security Pack or Cyber Essentials Certification at any point. For example, if you plan to gain Cyber Essentials certification in the next financial year.