Managed IT Support Services for Businesses in Birmingham with 10-100 IT Users
A team of qualified experts
24/7 proactive monitoring and maintenance
Specialists in companies with 10-100 IT users
Superfast response time when you need IT support
Helpdesk open 8 am to 5 pm Monday to Friday
Emergency Out-of-Hours IT Support
Exclusive coverage of Greater Birmingham and The Black Country for a fast on-site response.
Ownership of issues and help with third-party applications
Qualified cyber security professionals
Superfast IT is a Cyber Essentials Certification Body
Comprehensive cyber security is included as standard with our IT support service
Server backups with automatic offsite replication
Microsoft 365 backup included to protect your cloud data
Use Technology to Make Your Business Thrive

An assigned account manager who will meet with you regularly
Identify and manage the risk within your IT systems
Make the most of your technology investments
Use technology in new, business-boosting ways
Access your IT support information anytime with the Superfast IT App
All the IT Support Services Your Business Needs
IT Support for Small Businesses in Birmingham
We are proud to provide IT support services to more than 80 small businesses across Birmingham who no longer struggle with technology.
With its HQ in Kings Norton and service locations across Birmingham, Autism West Midlands does fantastic work supporting autistic people across the region.
You've undoubtedly seen Siddall Jones's boards as you've travelled around Birmingham. They're an award-winning commercial property agent that is really going places.
Based in Birmingham's Jewellery Quarter, Big Button is a video production company with a global reach, producing blockbuster videos for some of the World's biggest brands.
About Superfast IT
Here's a little background information so you can get to know us a little better.
Superfast IT is a privately-owned family business
Superfast IT is financially stable and growing steadily
Superfast IT is local to you. We cover Greater Birmingham and The Black Country.
Our 15-strong team is big enough to cope yet small enough to care.
Check our Google reviews to see our clients' appreciation for our outstanding service.
Superfast IT has provided IT support in Birmingham since 2002.
Superfast IT has long-standing client relationships with businesses across Great Birmingham and The Black Country.
Superfast IT is partnered with Microsoft and other IT industry leaders to offer you the best technology.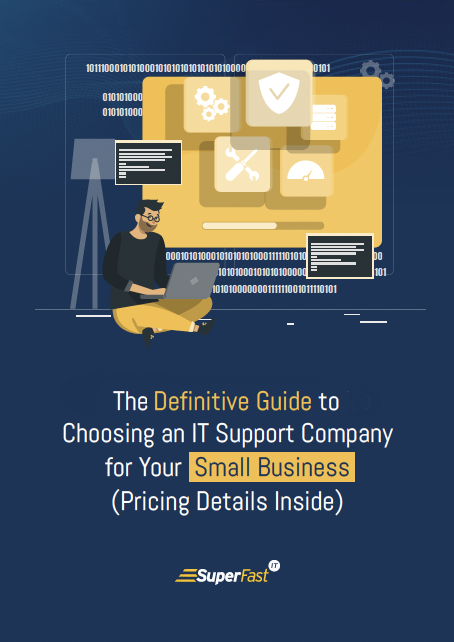 The 2023 Definitive Guide to Choosing an IT Support Company in Birmingham for Your Small Business (Pricing Details Inside)
Choosing an IT support company for your business is complicated. The costs of making a mistake can be huge.
There are many IT support companies in Birmingham; they can all appear the same. Choice paralysis might make you stick with the status quo even though you know you need to change for the good of your business.
That's why we've created an easy-to-understand guide to help you. It contains 41 pages packed with impartial information so you can make a fully-informed choice. We've also included our IT support package and pricing information to compare.